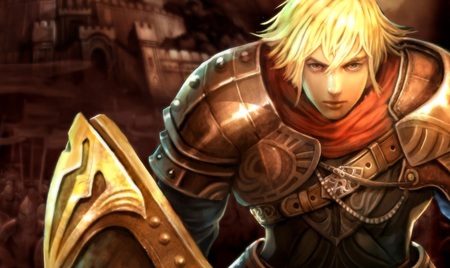 Full Name:
Alestair Krayci
Given Name(s):
Ale, Alestair, Hero of Turtle Beach
Birthdate:
01 Nymm 980
Birthplace:
Turtle Beach
Current Residence:
None, traveler
Race:
Human
Age:
18 years old
Height:
6"2
Weight:
200 Lbs
Eyes:
Green
Hair:
Blond, half-short, unkempt
Ears:
Human-rounded, mostly hidden under the hair
Skin:
Slightly tanned, young
Laterality:
Right handed
Posture:
Confident, almost noble even though he comes from a humble place.
Hygiene:
Even tho his hair are unkempt, he seems to always keep a very good higiene, cleaning his shield, himself and his armor when he's not traveling or fighting gnolls.
Scent:
Since he's an adventurer, he mostly smells forest and smoke.
General Description:
Although he still seems like a youngster, when you look at him, you can see the kind of man he'll be in a few years. A square jaw in the making, inteligent green eyes, his newly found facial hairs clean shaved, he has the good looks. He carries himself with confidence and doesn't shy away from people's glances. His good nature often shows on the outside, as he smiles often. There's an aura about him that inspires hope for a better futur. When he speaks, he rarely bring flaws about someone, but rather seeks the good sides of his brothers and sisters in arms. He knows how to motivate someone by bringing up what they are the best at, rather than what they need to improve on.
On the arsenal side, he's almost never seen without his Turtle Shield. A shield he made himself, from the shell of an old turtle who came to die in front of him at the beach. (To be completed, dammed Civ5)
"

There is no greater tyranny than that which is perpetrated under the shield of the law and in the name of justice.


"
General Health:
Physically healthy, athletically toned. Mentally stable, mostly.
Accent:
Thrane
Philosophy:
I aspire to be a wall against Tyranny, and bring more freedom to people.
Deity:
He believes in all of them, but he doesn't have a patron deity.
Initial Alignment:
Neutral Good
Profession:
Adventurer
Base Class & Proposed Development:
Fighter
Languages:
Habits/Hobbies:
Strengths:
Weaknesses:
Childhood:
Adolescence:
Parents:
Siblings:
Associates:
Allegiances:
[Current goals under construction]
✔ [/size]
✔ [/size]
Possible Plot-Hook Ideas: